99 Piece Jigsaw Puzzle A Dollar Bob
---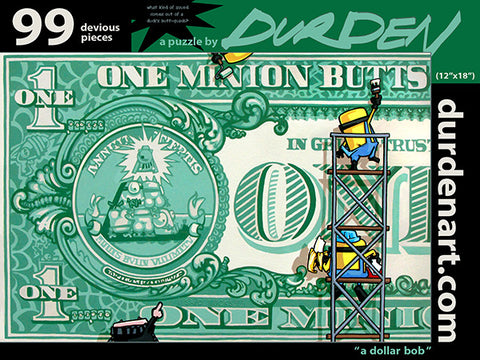 It was Bob's idea to prank the bill and he's got Kevin and Stuart helping out full force. Hoping their master will be so pleased by the wonderful job they are doing, this hilarious dedication will be their best idea yet. Unfortunately Gru is not so pleasantly surprised! He yells, "I said bucks!!!"

This listing is for one jigsaw puzzle. It is 99 pieces and finished comes out to 12x18". 
With excellent picture quality and lasting color, this jigsaw puzzle is the perfect way to keep children of all ages busy and challenged. Puzzle pieces are durable 1.2mm die cut cardboard and arrive with the pieces safe in a plastic bag ready to be put together. Be sure to check out the puzzle boxes made with love for your enjoyment!
Puzzle Box (approx 8x6x1.5in)
Colors may vary only slightly in terms of brightness & contrast due to customer monitor variations. 
Related Products
---