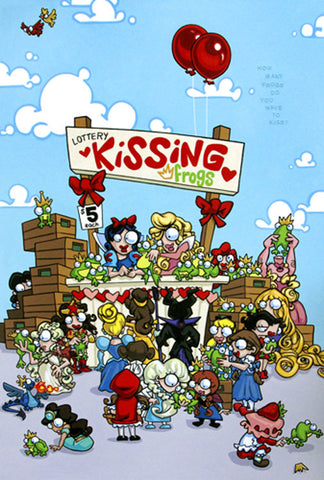 This piece is all about female entrepreneurship. Here princesses from all kingdoms have gathered to try their luck. Although the majority will always be searching for their chance at love and believe anything they hear, its the smart ladies behind the desk that have it figured out. Sell the dream!  Inspired by Schultz's Lucy who sells psychological help for 5 cents, inflation has driven up the value of these little lottery morsels. Dorothy, Maleficent, Khaleesi and Betty Boop all eagerly take the bate. Even Miss Piggy is cheating on Kermit! How many frogs do you have to kiss?
This listing is for one digital reproduction. The original painting is acrylic on wood panel.
Printed on high quality archival photographic luster paper. 
Prints are hand signed in black ink.
Print includes approximately 2" white border.
Standard size for framing.
Colors may vary only slightly in terms of brightness & contrast due to customer monitor variations. 
Related Products
---