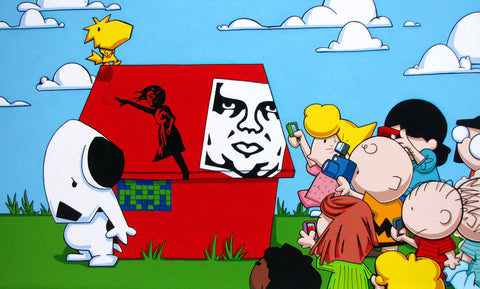 How do we encourage social expression and when and where is it appropriate? Due to graffiti art's new popularity both through social media and celebrity, we are consumed by images of giants and aliens. These three artists represent our culture's need for social commentary and over obsession with the familiar. They walk a grey line between evolution and disorder. To some these are stirring images, placed in sensitive environments, which bring more to the work. To others, they are invasive acts of vandalism. The paparazzi represent the intrigue and consumption of the masses, while their dog ponders its value and its boundary of ownership. Does graffiti add to or belong as an addition to existing art and architecture and where do we draw that line? In encouraging the act of graffiti and public art are we all standing on the same side of the line?
This listing is for one digital reproduction. The original painting is acrylic on wood panel.
Printed on high quality archival photographic luster paper. 
Prints are hand signed in black ink.
Print includes approximately 2" white border.
Standard size for framing.
Colors may vary only slightly in terms of brightness & contrast due to customer monitor variations. 
Related Products
---